Modern Makers is a weekly newsletter where I share with you a selection of the best available content about no-code and productivity tools. I hope this content will help you grow your business, launch your project or succeed in your career.
You can subscribe to make sure you will receive all my content directly in your inbox every Sunday
---
Hi makers,
This week in the agenda:
💯 Webflow's ambition to become an All-in-One platform
📅 Two no-code online events this week
🎙️ An interview with David Adkin, co-founder of Adalo
Enjoy!
---
Among my readings this week, I particularly enjoyed one article published on Wired and entitled "'Real' Programming Is an Elitist Myth".
In this article, journalist Paul Ford starts from a situation where his wife started using Airtable to manage all the data for a self-help project to provide food to people in need in New York City during the Covid-19 pandemic.
Paul goes on to say that, in his opinion, real developers will often denigrate this type of no-code tools. A certain form of elitism that he says tends to make developers nervous when they see people without any technical knowledge doing programming with these tools. This debate on "what is real programming?" has pretty much existed since the beginning of the web. According to the author, the real added value, the crucial element of programming is precisely data, sometimes seen as a not very subject (or even boring).
For Paul, however, manipulating a database is one of the most satisfying experience.
I get asked a lot about learning to code. Sure, if you can. It's fun. But the real action, the crux of things, is there in the database. Grab a tiny, free database like SQLite. Import a few million rows of data. Make them searchable. It's one of the most soothing activities known to humankind, taking big piles of messy data and massaging them into the rigid structure required of a relational database. It's true power.
I agree with this vision and this is where I think the real strength of a tool such as Airtable lies, allowing anyone to visualise and understand how a relational database works. This article has made me want to continue using Airtable on a daily basis and I invite you to do the same if you are not already doing so! (disclaimer: it's a very addictive tool)
So, will we all call ourselves programmers in the future?
---
🧰 Product
This week saw the start of Webflow Virtual World Tour 2020 which highlights the Webflow user community around the world. This event began last Tuesday with a conference where Webflow product teams were able to present some of the items on their product roadmap.
Some of the new features that the Webflow teams are working on have rightly caught the attention of Webflow fans. I'm thinking in particular of :
User systems: at its core, it would let your visitors create an account on your website

Subscriptions: management and creation of paid subscriptions directly within Webflow (until now you have to use a third party service such as Memberstack)

Logic flows: create workflows in Webflow (ex: if the user clicks on a button, then an action is triggered)
No launch date has been announced so it will probably still take some time to be able to see all these features available on Webflow. It is nevertheless reassuring to see that these platform evolutions are currently under development.
Webflow's medium to long term goal is clear: to build an All-in-One platform that is self-sufficient, in order to bring maximum value to its users and offer them an optimal experience.
---
Notion now allows you to easily switch from one account or one workspace to another within the platform, a bit like Gmail for example. Until now, users with multiples emails had to constantly logging out and logging back. A real pain for a lot of Notion's users.
This new feature will therefore make the experience much more pleasant for users who have several workspaces/accounts within Notion.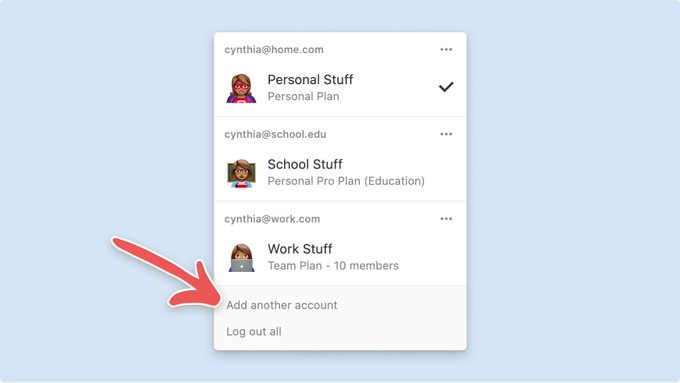 ---
📅 Events
This Tuesday, August 25th will take place The Rise of No Code organised by Startup Disrupt. For a little less than an hour, 4 no-code personalities will participate in a conversation about no-code and low-code tools and their impact in terms of productivity and efficiency for startups and large corporations. The guest list for this online event:
Emmanuel Straschnov (co-CEO & Founder, Bubble)

Patrik Šimek (Co-Founder & CTO, Integromat)

Goncalo Henriques (Founder, NoCodery)

Tom Osman (Head of Education, Makerpad)
Tickets are free at the moment I'm writing this newsletter (the price will then go up to 14€)
Attend: The Rise of No Code
---
Another no-code event will take place this week. Startup Grind Berlin is organising a panel discussion on Thursday 27th August at 6pm CEST on the following topic: "Is the Future of Code No-Code?". Again, there will be some familiar names among the speakers, including Vlad Larin from Zeroqode & Tom Osman from Makerpad.
Attend: Is the Future of Code No-Code?
---
🎙️ Podcast
The Visual Dev podcast comes back with a brand new episode this week and with a special guest: David Adkin, one of the co-founders of Adalo. For about 40 minutes, David talks about the report The Future is No-Code that Adalo published a few weeks ago and the even more recent launch of the components marketplace unveiled in early August.
David also has the opportunity to present his vision for Adalo and to highlight examples of mobile applications developed with Adalo.
Listen: Visual Dev - An Interview with David Adkin
---
📦 In other news
---
📖 No-code in the news
How Notion Built A $2B SaaS Startup - Foundation
Five VCs discuss how no-code is going horizontal across the world's industries - TechCrunch
High Ambitions For Low Code - Forbes
Meet Glide, a clever tool that turns spreadsheets into apps - Fast Company
A future without programming - What is "no code"? - Kojini's Cafe
Top No Code Communities for your Digital Transformation - Quixy
Seattle startup vets raise $1.3M for no-code workflow automation startup Reflective - Geekswire
---
That's all for this week. If you like the content, don't hesitate to share it with your friends or colleagues.
I also invite you to send me your feedback on this content by leaving a comment below.
Have a great week,
Martin,
Follow Modern Makers on Twitter